POMEN APP
Step-By-Step Tutorial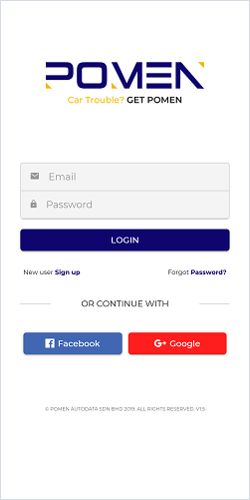 Log in using your email and password that has been registered during registration process or continue with Facebook or Google.
On home page, you have four option to choose from: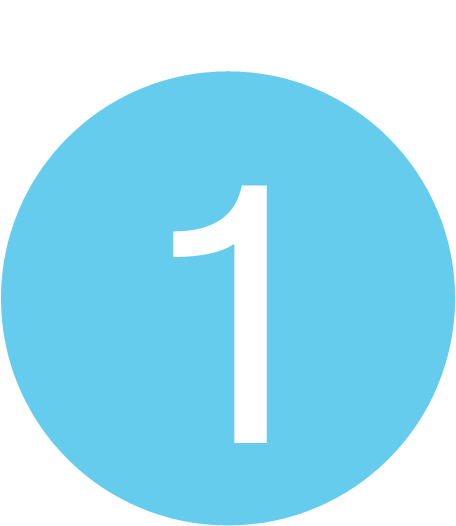 Breakdown
Get immediate help from a mechanic nearby. The price displayed does not include replacement cost and depends on the time of request.
This option allows the driver to ask the mechanic to come and fix the car. Service prices depend on the time of demand.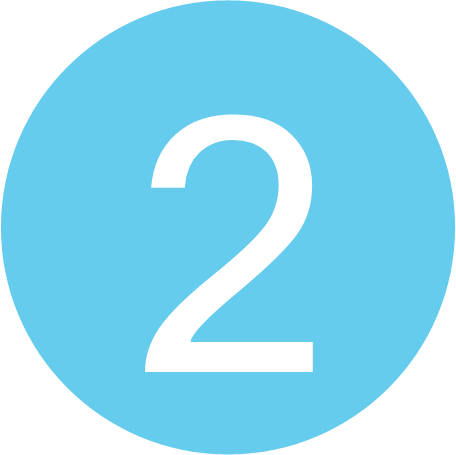 Battery
Drivers may choose to switch to a new car battery or "Jumpstart". Battery price depends on the type of car.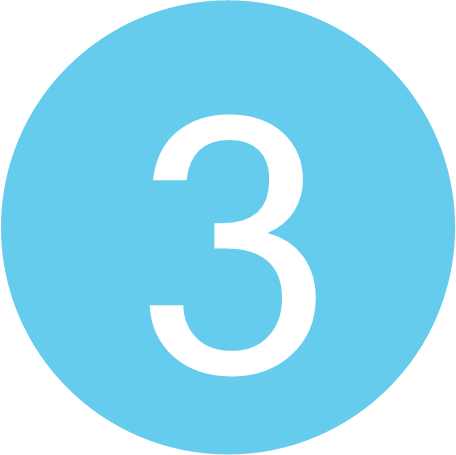 Service
Choose whether to service your car at home or at a workshop. Service prices are subject to the package.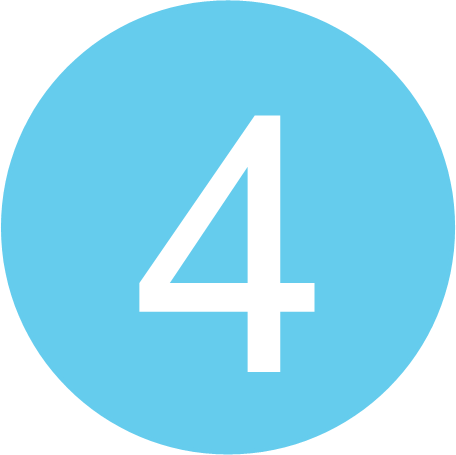 Flat Tyre
Get mechanical help nearby to replace your car's tires.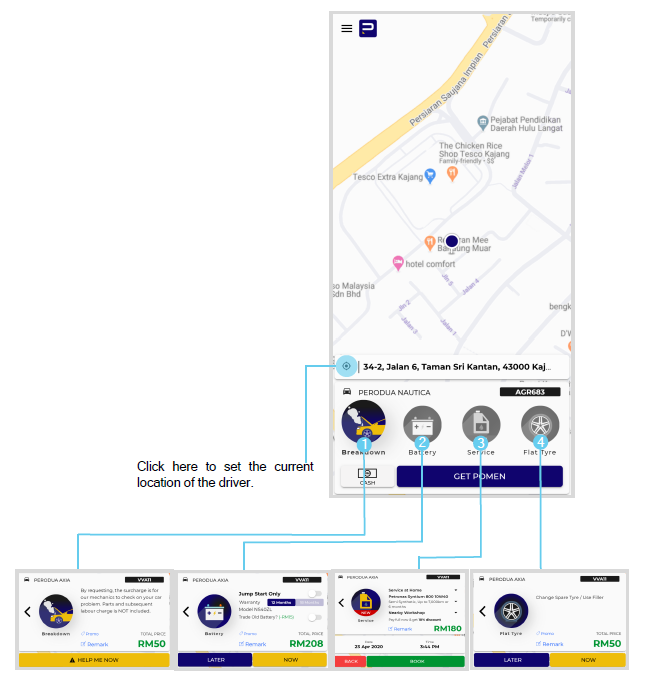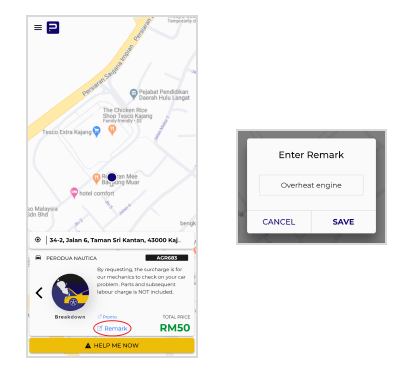 Remark is used to add any message to an incoming mechanic.
After clicking on "NOW" or "BOOK", the driver will be shown a list of current requests.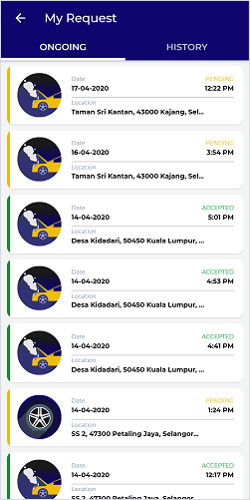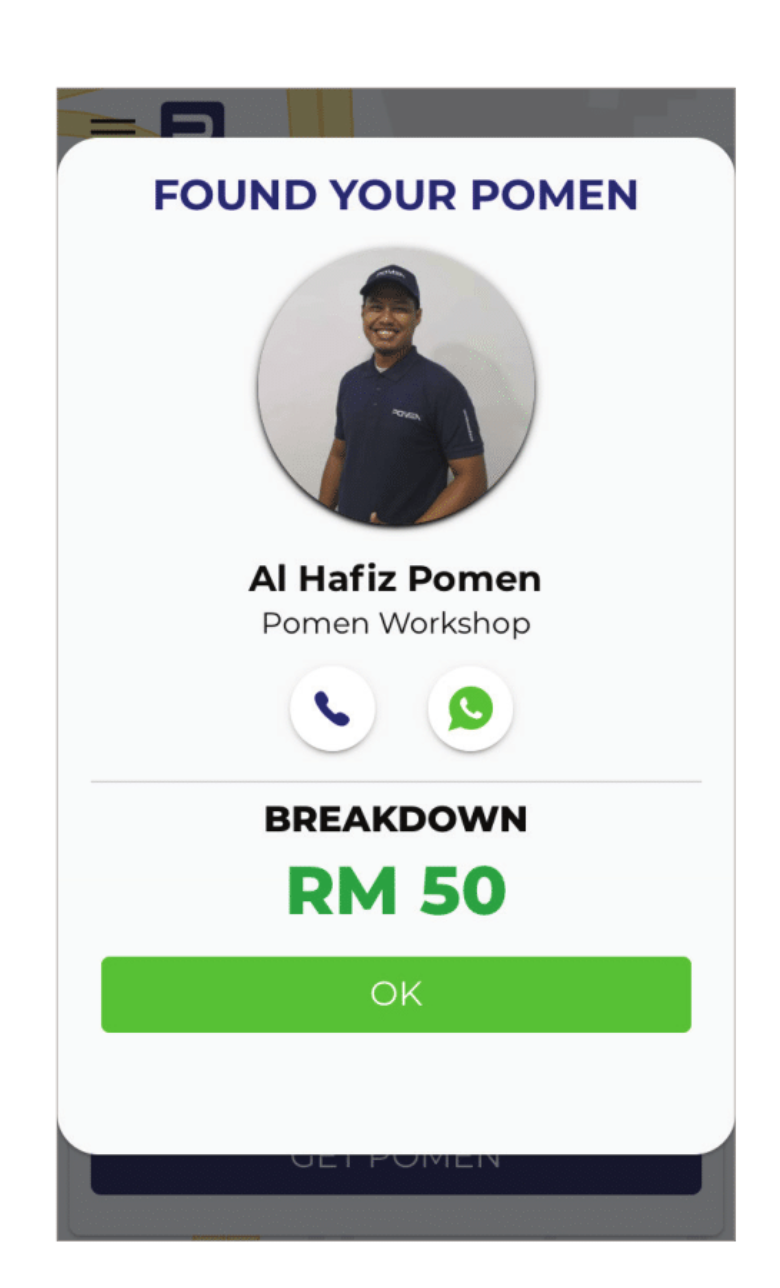 When there is a workshop that accepts driver requests, a notification will be received showing the details of the mechanics and the workshop involved.

You can contact the mechanic by phone or Whatsapp.
You can select the payment method by pressing the "Payment Method" button. There are two types of payment methods, either online or cash.
For Breakdown, Flat Tyre and Battery, payments are made as soon as the work done by the mechanic is completed.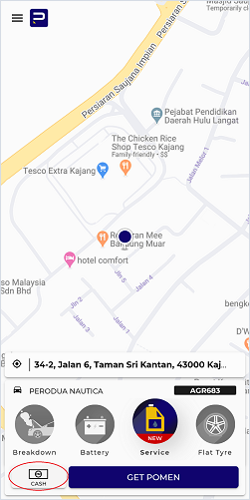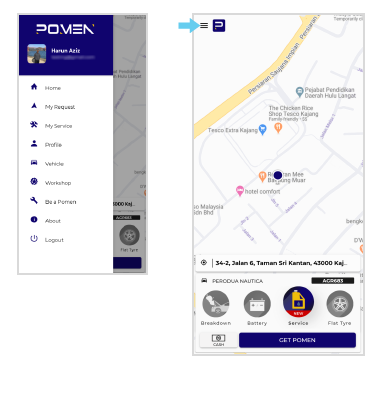 Click on the menu button to bring up the "Side Menu". You can choose to update their profile, view request lists, workshops and more.
The "Profile" menu displays driver information (Name, Address, Email, Phone Number, Gender, Date of Birth and Photo). Click on the "Edit" button to update the profile.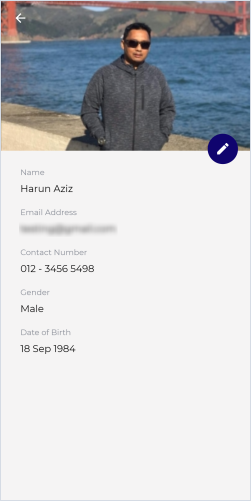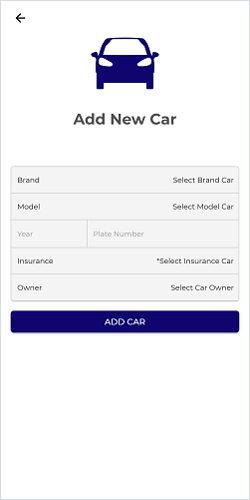 You can add vehicles in "Side Menu" and update the vehicle information you wish to register and press the "ADD CAR" button.
Once complete, the vehicle list will appear.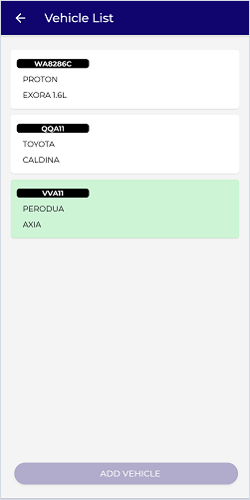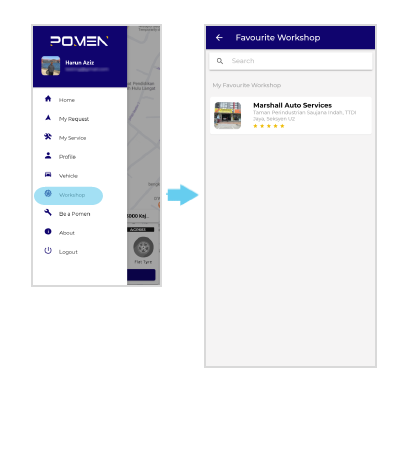 The "Workshop" menu lists each workshop that is registered with POMEN.
You can add any workshop to be included in the Favourite List.
The "My Service" menu lists each service that the user has requested.
You can review the requested service along with the distance and the next service date.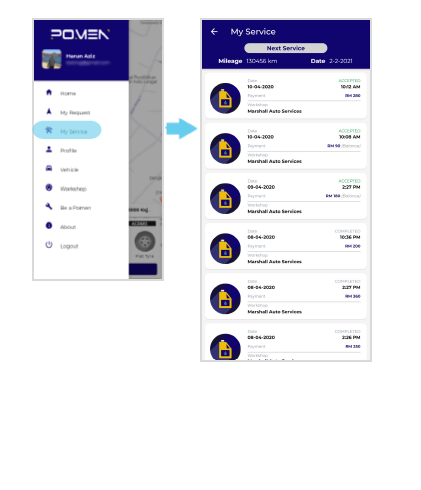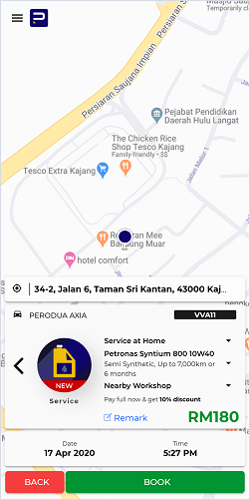 You can select the "Service" menu from the homepage and select the options available in the "Service" menu and click the "BOOK" button for the reservation.
After the booking is accepted by the Workshop, the booked service information page is directed to you.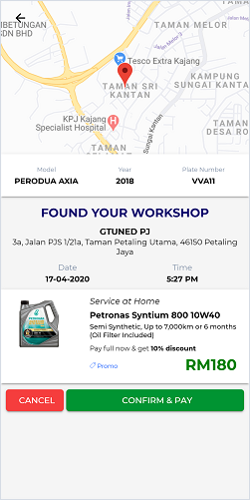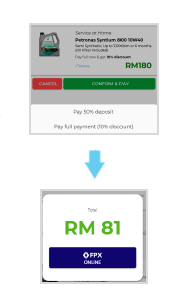 Click on the "Confirm and Pay" button to make payment and the option of the payment is given.
For "My Service", the payment is made through the online transaction after one of the option is chosen.
You can redeem the Promo Code by clicking the "Promo" button in the red circle.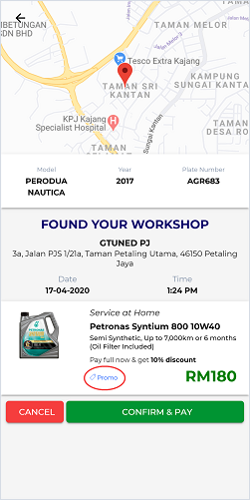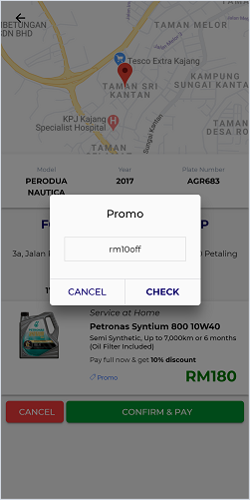 You can insert the Promo Code to check the availability and get the discount from initial price.
The "About" menu displays information about the POMEN application to enable you to contact based on the information provided.
You can download the manual by clicking on the button below