Car care and maintenance must be performed responsibly. Otherwise, it would be such a waste because of negligence of not taking car of your car. Unnecessary repairs can be avoided if you learn to take care of your car. In the long run, you will be saving money for being attentive to the upkeep of your car.
Effective Tips to Take Care of Your Car
A new model requires less frequent services because some of the annoying servicing needs such as cleaning the body rust, changing breaker points, or replacing spark plugs are related to ageing. However, your automobile still deserves some periodic checks, repair work, and clean up jobs. Let's take a look at 6 ways of taking care of your car.
Engine Oil
Check the engine oil level on a regular basis and keep an eye for leaks.
Use a dipstick for the checking and park the vehicle on an even surface at that time to get the correct reading. If the level is low, fill the tank up but don't overfill. If you find a leak, immediately take your car to a workshop to get it repaired.
Transmission Fluid
The cap to the fluid cylinder is sealed in many new models with an automatic gearbox. If your car is not one of them, check the fluid level when the engine is warmed up and running. Find out the level in the break-fluid reservoir and power-steering pump at the same time. Repair if there's any leak and fill up if any of the tanks are running low.
Tyre Air Pressure
Each tyre should be inflated to the right psi. You have to check the pressure of all the tires including the spare once in a month and before an extended road trip. Use a pencil-type or digital tire-pressure gauge (which won't cost that much) to do the job.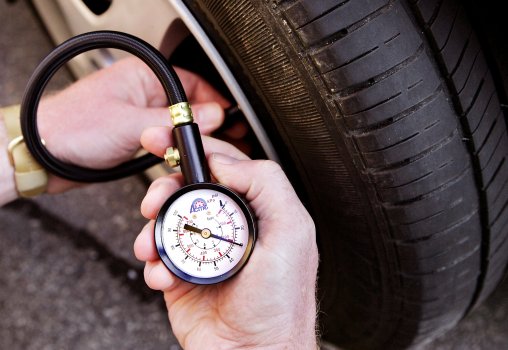 Clean the Glasses
Always keep the windshield, rear view mirrors and headlights clean to avoid hazards. You can use a cleaning fluid to wipe the bug-splattered and dirty windshield and rear view mirrors. On the other hand, toothpaste or baking soda can give temporary headlight fix, but a can of UV-resistant clear coat will give it a permanent solution.
Examine the Brakes
If you have the right knowledge and skills to examine your car's brakes, check them at least twice or three times in a year, or even more if you drive frequently or long distances. You will need to remove the wheels and check the condition of the rotors, pads, drums, and other parts. Go to a car service shop if you are not familiar with checking your brakes and let the professionals handle the job.
Need more help in maintaining your car so that it's in good condition?
Download the POMEN app.